Get qualified now for the...
2023 BBR World Finals
April 25-30, 2023
Oklahoma City, OK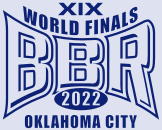 2022 BBR World Finals
April 19-24, 2022
Over $100,000 Added Money
Event Results
---
Schedule & Rules
---
Live Event Webcasts
Webcast video provided by Marks Video. Webcast links below will be live beginning Wednesday, April 20th.
BREED ASSOCIATION SIDEPOTS AT BBRWF
BBR is partnering with AQHA, APHA and ApHC to office breed incentives at the BBR World Finals! Entries will be accepted on-site only at each respective breed association's booth in Vendor Village arena located in Barn 3. Make sure you stop by their booths to enter and to update registrations, memberships, horse ownership records, etc.
$5,000 BBRWF Sidepot ($80 EF)
$1,000 Futurity Sidepot ($50 EF)

$1,000 BBRWF Sidepot ($45 EF)

$1,000/Buckles BBRWF Sidepot ($50 EF)
$500/Buckles Youth Sidepot ($50 EF)
CONTESTANT COAT SALES NOW AVAILABLE - BBR GEAR
2022 BBR World Finals Host Hotels
Embassy Suites by Hilton
Will Rogers Airport

Contestant Rates Starting
@ $99/Night

Best Western Plus
Saddleback Inn & Conference Center