---
2013 Year End Standings & Hi-Point Winners
Mark Your Calendars -
2014 BBR World Finals - April 23-27, 2014
2014 WF Updates & Info -
Click on World Finals Info Tab Above
---
BBR Announces New Programs in 2014 that will impact breeders, futurity barrel racing, team roping, tie down roping and steer wrestling. Click on the logos above for complete information on each program.

---
BBR OFFICE (405) 230-7167
BetterBarrelRaces@gmail.com
---
---
BBR Sanctioned Qualifying Barrel Race Events
for the $2 Million Rodeo 'The American'
Sept 28, 2013 - Loveland, CO
Mile High Barrel Productions
Oct 12, 2013 - Lincoln, NE
Nov 9, 2013 - Alvarado, TX
BBR - OK/TX Regional Finals
Nov 23, 2013 - Jackson, MS
Jan 18, 2014 - Buckeye, AZ
---
---
Outbreak-Alert helps keep horse owners informed.
Check out and sign up for Merial's new service that keeps you informed whether on the road or at home in your barn.

BBR appreciates our independent producers who sanction events and endorse BBR by displaying the BBR logo on their web sites. Since BBR is not always able to sanction every event an independent producer is offering, it is the responsibility of BBR members to check the status of an event on the official BBR Web Site to determine the approval status
---
Arena of Champions
2013 BBR World Finals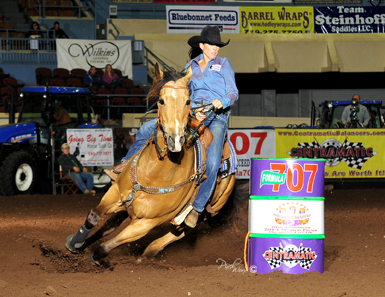 Kasey Mowry

BBR World Finals Slot Race Champion

Photos courtesy of Pixel Worx - Click on their logo to order your BBR World Finals Photos
---
Courtesy of 12Basket Productions
Click on their logo to order you BBR World Finals run.
---

For
Email Marketing you can trust
...............................................................................
As per the July 2010 BBR Board Meeting the following changes have been made to the BBR
Regions and Regional Awards program. These changes are being implemented to be
able to provide more awards to more than just the Top 5 in each region and to encourage
people in outlying areas to become BBR members.
Effective January 1, 2011 BBR Membership Dues shall increase to $55 per year.
In addition, the old system for defining a region will no longer be used. Beginning January
1, 2011, a state will become a region on its own when there are 300 active annual memberships
residing in the state. Although these new regions become effective on January 1, 2011 – it will
not affect the 2011 BBR World Finals – April 27th-May 1st, 2011.
NEW BBR REGIONS / Effective January 1, 2011:
States in

Red

currently have 100+ members.
Northern
:

IA

, NE, ND, SD, MN and WI – 406 members as of 12/23/2010.
Western
: MT, WY,

CO

,

KS

, NM, AZ, UT, NV, ID, OR, WA, CA - 366 members as of 12/23/2010.
Eastern
:

MO

, IL,

AR

, LA, IN, MI, OH, TN, AL, FL, MS - 592 members as of 12/23/2010
Texas
– 364 members as of 12/23/2010
Oklahoma
– 824 members as of 12/23/2010
---
---
Results From Past Years' Finals...
Answers to frequent questions from producers.