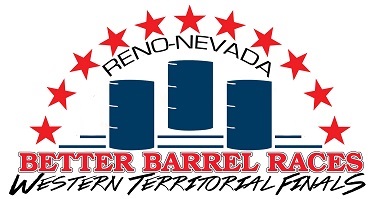 Western Territory Finals Produced by BBR!
$25,000 Added & $10,000 Select Stallion Stakes Incentives!
ATTENTION RENO CONTESTANTS
All contestants must show current negative Coggins test (dated within 6 months of 10/1/17) and Health Papers (dated within 30 days of 10/1/17) are required at check in. HORSES WILL NOT BE NUMBERED WITHOUT THESE DOCUMENTS.
2017 Reno Stall Assignments
BBR Select Stallion Stakes
Progeny Enrollment Application
---
2016 RENO RESULTS
Format:
World Finals Format in the Western Territorial Finals 5D at Reno, NV with 2 Long Goes and Short Go
5D with half-second splits
75% payback on entry fee + 100% of Added to Purse
30% to 1st Go / 30% to 2nd Go / 40% to Short Go
Top 15 fastest times in each D from each long go proceed to the Short Go (see rules & conditions for complete information)
Requirements:
Must be a current BBR Member
Must make runs in two (2) sanctioned barrel races or be a Gold Card Member to Qualify
Double Qualifier Race on Thursday - (Members who do not have the two necessary qualifiers to run in the main race, can automatically qualify for the main race by entering the warm up race on Thursday.)

75% Payback on Entry Fee + 100% of Added Money to Purse
******